Why the 'Simpsons'/'Futurama' Crossover Failed (And What It Could Have Been)
To be fair, it would take you over 22 minutes to really explore this idea in the cheesy detail it deserves. Fortunately, something like that exists… but not on TV.
See, in 2002, The Simpsons and Futurama Bongo Comics by creator Matt Groening released The Simpsons Futurama Infinitely Secret Crossover Crisiswhich has an appropriate meta starting point: Fry reads a The Simpsons comic ("the only non-pornographic comic that is still published") when he and his friends are transported there by these evil floating brains as part of a plot to rule the universe via speculation in the market for comic. Like on "Simpsorama," Bender inevitably ends up at Moe's Tavern, but we get more than a few seconds of him interacting with his fellow booze-lovers.
Another subplot finds Fry pretending to be a substitute teacher at Springfield Elementary and making Bart's job much easier by bullying himself.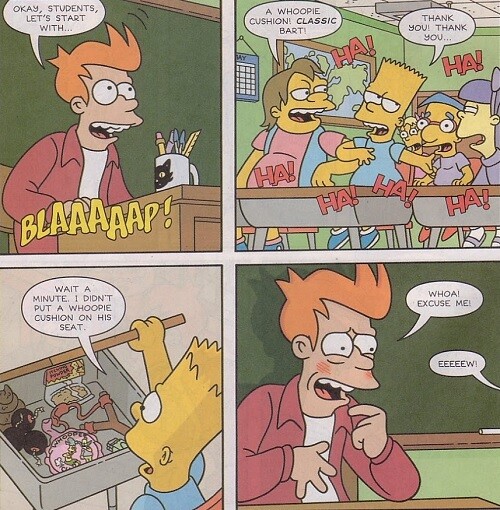 But Fry inadvertently comes back to him by dropping the existentially devastating revelation that Bart is nothing more than a logo used to sell t-shirts (he takes it pretty well, though).
Zoidberg wanders into Mr. Burns' nuclear plant, where he is mistaken for the tragic result of a work accident. Later, he falls into a vat of nuclear waste and emerges transformed into a monster.