Top 25 best-selling cars, trucks and SUVs in 2021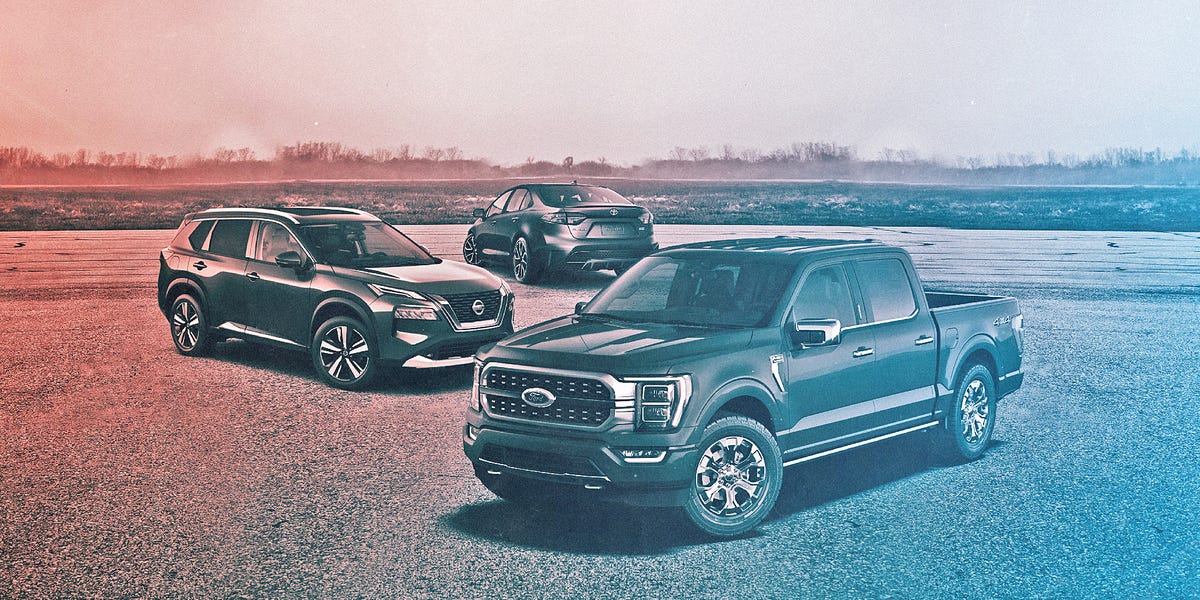 2020 was a weird year for new car sales, but 2021 could have been even weirder. Many factors were at play, including inventory constraints due to a shortage of semiconductors and the continuing COVID-19 pandemic. Even so, buyers flocked to dealerships to grab the limited inventory, meaning overall volumes topped 2020 numbers. It was more of a mixed bag on a model-by-model basis, and we counted the 25 best cars, trucks and SUVs in order of their sales figures. This list now includes figures for the full 2021 calendar year.
25. Honda Pilot (143,062 units sold)
Honda's three-row SUV is in the top 25 thanks to its strong numbers which are up 16% from last year. It needs to be replaced soon, as the current generation has been around since the 2016 model year.
Read more
24. Toyota 4Runner (144,696 units sold)
It may be dated, but Toyota's body-on-frame SUV continues to sell in strong numbers, posting a 12% increase over last year.
Read more
23. Ford Escape (145,415 units sold)
Now that its sleeker and more exciting Bronco Sport sibling is on sale, it's no wonder the somewhat anonymous Escape has fallen through the ranks. Sales were down 19% and the Bronco Sport is charging strong with 108,169 units sold throughout the year.
Read more
22. Hyundai Tucson (150,949 units sold)
The new 2022 version of Hyundai's compact SUV has a bold look, and it seems customers are loving it. Sales increased by 22% compared to last year.
Read more
21. Subaru Outback (154,623 units sold)
The Outback cornered the station wagon market, as it is the only one of its kind to sell in significant numbers in the United States. Its sales are up 1% from last year, and there's a new off-road-oriented Wilderness model for the 2022 model year.
Read more
20. Subaru Forester (154,723 units sold)
You're more likely to see a new Forester on the road than any other Subaru because it's the brand's best-selling model. Sales were down 13% from last year.
Read more
19. Chevrolet Equinox (165,323 units sold)
The Equinox has seen better days, as it was one of the few compact SUVs to experience a sales slump last year. A refreshed model for the 2022 model year might start to buck the trend, but not if inventory remains a challenge.
Read more
18. Mazda CX-5 (168,383 units sold)
The CX-5 may not be the best-selling compact SUV, but it takes the top spot in our book. As a top 10 winner, it's our favorite of the bunch, and sales are up 15% over last year.
Read more
17. Tesla Model Y (172,700 units sold, est.)
The Model Y is the best-selling electric vehicle in the country and it has made its way up the overall best-selling list this year. But these sales figures come with a caveat, as this is an estimate of Automotive News; Tesla does not release its own US sales figures.
More information
16. Honda Accord (202,676 units sold)
The 10th-place award-winning Accord midsize sedan is no longer the best-selling sedan it once was, trailing far behind rival Toyota Camry and behind Honda's compact Civic. The updates for the 2021 model year are minor, but they still saw a 2% increase over last year.
Read more
15. Jeep Wrangler (204,610 units sold)
The Jeep Wrangler lineup is more diverse than ever, now that it offers an optional diesel, V-8, and even a plug-in hybrid model. Its popularity also remains high, with sales up 2%.
Read more
14. Ford Explorer (219,871 units sold)
The Explorer and the Toyota Highlander were vying for the three-row SUV sales crown earlier this year. But the Ford has now definitely lost the race, with sales down 3%; by comparison, sales of the Highlander were up 24%.
Read more
13. GMC Sierra (248,924 units sold)
Sales of both light and heavy Sierra models have fallen this year, with the 1500 model down 0.5% and HD trucks down 4%.
Read more
12. Toyota Corolla (248,993 units sold)
Toyota's compact sedan and hatchback continue to enjoy their solid reputation for reliability. Sales rose 5%, but it finished the year behind its rival, the Honda Civic.
Read more
11. Toyota Tacoma (252,520 units sold)
Midsize trucks are the way they are these days, and the Tacoma outshines all of its competitors by a wide margin. Its sales increased by 6% compared to 2020.
Read more
10. Honda Civic (263,787 units sold)
The Civic languished in the first quarter of the year, but sales have increased since the redesigned 2022 Civic went on sale. The figures increased by 1% compared to last year.
Read more
9. Toyota Highlander (264,128 units sold)
The three-row Highlander SUV continues to climb the sales ranks in 2021 with a strong year. Sales increased by 24% compared to last year.
Read more
8. Jeep Grand Cherokee (264,444 units sold)
A new generation of Grand Cherokee is now on sale, starting with the three-row L model, but the current two-row version is still available. A new two-row model is coming soon, but so far sales are up 26% from last year.
Read more
7. Nissan Rogue (285,602 units sold)
The redesigned 2021 Rogue is far better than its predecessor, and the numbers reflect a similar improvement so far this year. Sales increased by 25% compared to last year.
Read more
6. Toyota Camry (313,795 units sold)
If there's one thing that's certain in the auto sales pecking order, it's the Camry's place at the top of the passenger car ranks. The mid-size sedan saw a 7% increase over last year, enough to beat all entries on this list that aren't trucks or SUVs.
Read more
5. Honda CR-V (361,271 units sold)
The CR-V is Honda's bread and butter, and its sales are up 9% from last year. A hybrid model recently joined the lineup and we've added one to our long-term test fleet.
Read more
4. Toyota RAV4 (407,739 units sold)
Since winning the nation's best-selling non-truck title, the RAV4 extends its lead over its compact crossover rivals. Sales were down 5% from last year.
Read more
3. Chevrolet Silverado (519,774 units sold)
The Silverado's results haven't been great in 2021. It's been overtaken by the Ram truck lineup, and sales have declined, with the lightweight model down nearly 13% and the HD trim down nearly 13%. 8%.
Read more
2. Ram Pickup (569,388 units sold)
The Ram truck lineup continues to climb with a strong year that saw sales increase 1%. That was enough to beat the Silverado, which typically ranks second in the sales charts.
Read more
1. Ford F-Series (726,004 units sold)
Best Selling Vehicles of 2020
This content is created and maintained by a third party, and uploaded to this page to help users provide their email addresses. You may be able to find more information about this and similar content on piano.io