Publication of the first official images of the MG4 electric crossover; Full details in September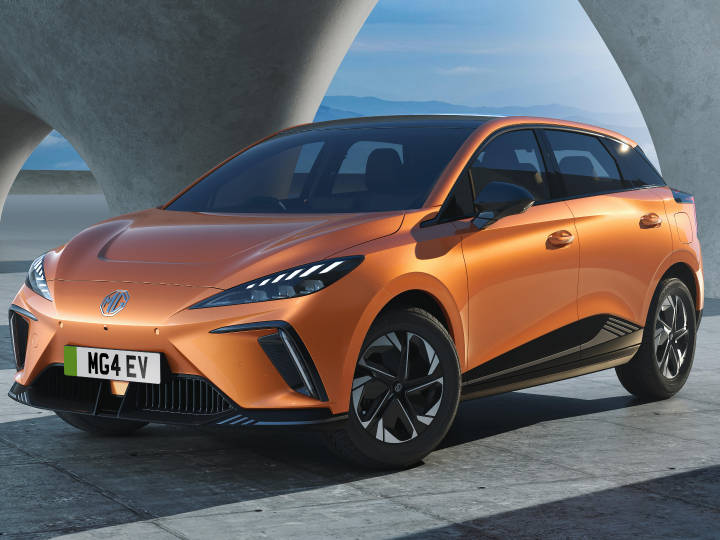 Sleek lighting, a clean face, sleek alloy wheels and sporty character lines make up the design.

Futuristic and minimalist cabin with a unique center console, as well as a sleek touchscreen infotainment system and digital display setup for drivers.

Comes with OTA updates and software to enable self-driving technology.

Offered initially in 170 hp (51 kWh battery) and 204 hp (64 kWh battery) RWD powertrain configurations, with AWD options coming later.

Claimed to go up to a WLTP claimed range of 350 km (51 kWh) and 450 km (64 kWh) on a single charge.
Remember back in February that MG Motor teased an all-new electric vehicle? Well, the covers are finally off and it will be called the MG4. As the previous teaser suggested, it will be a crossover and will have plenty of firsts, including being the first to be built on the Modular Scalable Platform (MSP), which will also underpin future MG VEs.

Being based on a new platform, it was natural for the MG4 to go through a new design philosophy. It's most noticeable for the face, as it's much cleaner without a massive grille, and the nose slopes down unlike the vertical nature of models like the ZS EV. The simplistic nature continues with sleek headlights with vertical LED daytime running lights.

That being said, the MG4 still incorporates the aggressive styling of current MG models, such as a sporty front bumper, strong character lines and a classy set of alloy wheels. It has a fairly chiseled rear with connected taillights, as well as what looks like a twin-rear roof spoiler. It is 4287mm long, 1836mm wide and 1504mm high. Although a wheelbase figure has not surfaced, the platform allows wheelbases ranging from 2650mm to 3100mm.

While MG has only revealed a single layout of the cabin, it's enough to showcase a fairly futuristic yet minimalist layout. What really caught our attention was the area of ​​the center console where it sits high, there appears to be a touchpad or a wireless phone charging slot, and there's a rotary knob for the driving styles. Next to it is what appears to be the button for the electric parking brake.

We also noticed a nice and slim floating touchscreen infotainment system, with the driver being treated to a small but simplistic digital instrument cluster. A detailed list of features is not yet available, but the MSP platform will allow over-the-air updates as well as what MG calls Pixel Point Cloud Comprehensive Environment Mapping (PP CEM), which is required for driving technology autonomous.

The real party stuff, of course, is under the hood. The MG4 will initially be offered with a 170hp powertrain, mated to a 51kWh battery, or a 204hp option mated to a 64kWh battery. Both send power to the rear wheels, with the most powerful MG4 variant capable of a 0-100 km/h sprint in under 8 seconds and a top speed of 160 km/h. That's not all for the crossover, as MG will offer more powerful all-wheel-drive options.
When it comes to range, the MG4 is capable of accomplishing feats of up to 350 km (51 kWh) and 450 km (64 kWh) claimed by the WTLP on a single charge. Another neat thing about the MSP platform is that it combines a 50:50 weight distribution.

For all the juicy details, you'll have to wait until September when the MG4 EV launches in the UK. So what does all this mean for India? Well nothing yet but the automaker is planning to introduce a second electric vehicle for India. It is slated for an arrival in early 2023 as a heavily localized model and will target the mass market segment with prices likely to range between Rs 10 lakh to Rs 15 lakh (ex-showroom). This should pit the new EV against the Tata Nexon EV.