PERRY: Mystery behind banned ice cream trucks in Aurora is a kid's thing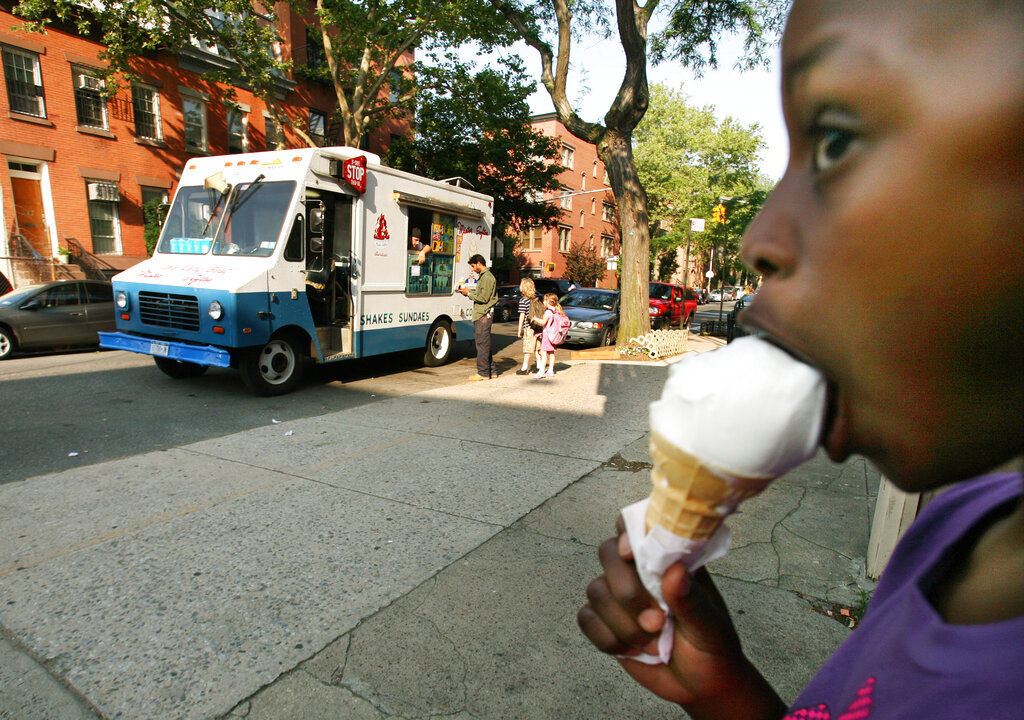 Ssorry-not-sorry, be the icy fun grinder when it comes to waving the green flag on the ice cream trucks roaming the streets of Aurora again, but they've long been banned here and in many cities.
They are dangerous and sometimes deadly.
I burst out laughing earlier this week when council member Dustin Zvonek announced his "eureka!" when a city employee reported that rolling ice cream trucks are banned in the city.
I thought not only of Zvonek but even Sentinel staff members pretended to be shocked and impressed by the discovery.
"When you hear it, you're like, 'There's no way this is real,'" Zvonek said of the candy truck ban, according to a story by Sentinel journalist Max Levy. "But it's a good example of a settlement being put in place, and it's languishing on the books, and there's been no real process to review it."
I realize now that Zvonek and a lot of other people are really baffled by the realization.
Why on earth would an entire city ban big low visibility square trucks that play loud, startling music to alert kids who then act like summer Santa has just arrived outside and is waving them over to indulge to a fabulous sugar rush, which first requires navigating moving cars through the streets to get around these traffic obstacles surrounded by amplified children completely distracted by music, mission, decision, money , then the icy reward that can't wait for the kid to be safe off traffic?
Why on this capitalist, market-economy Earth, wouldn't someone want this walking around their neighborhood and luring their children onto the streets?
And how, I ask, have we survived these 40 years without all of this?
Flash. Flash. Flash.
Spoiler alert: Ice cream truck bans came to a head in the 1970s after several reports of children being injured and killed while running towards ice cream trucks, or returning from ice cream trucks, or simply are collapsed. by ice cream trucks.
Aurora's ban was first established in 1957 and recodified a few times later. City spokesmen Ryan Luby and Michael Brannen unearthed the first bill that made it clear that luring children to streets with moving traffic was a bad idea. "Minors are of such an immature age that they are unable to determine the danger of entering a public street, lane or public way, and are unable to avoid other vehicles in order to avoid injury. serious or death."
Instead.
I live in a neighborhood where these trucks have now reappeared, and I flinched more than once as impatient drivers crowded around a stopped ice cream truck, just like a small child, much smaller than the hood of the giant SUV that can't wait 60 seconds, ice cream stuck in their parison, unknowingly begins to pull away from the truck.
Just two weeks ago, a 2-year-old boy was killed while running for an ice cream truck in Dallas. A Chevy Tahoe was trying to drive around a stopped truck serving children when the driver hit the toddler, killing him.
It's not an anomaly. A simple Google search brings up pages of stories of children injured or killed as trucks roll through neighborhoods.
You don't have to be very imaginative or even a parent to imagine how the streets of Aurora, many of them even without sidewalks, are teeming with all those aggressive, dickhead drivers you encounter every day while driving around. one hand and texting with the other and are a danger to anyone on foot or on a bike, even without the added complication of a rolling truck attracting children displaying all the wisdom and fervor of your deprived cousin sleep charging into a Wal-Mart for $25 Black Friday TVs.
What shocks me more than anything is that, unexpectedly, I am the adult in the room pointing out what I thought was just common knowledge: there is real danger here.
My risk aversion is not what my friends and family know me for.
As a child, I had no problem jumping off my parents' roof, equipped with my very own set of Icarus wings. I miraculously broke nothing or died in this failed but exhilarating experience.
I drive too fast. I cycle way too fast. And I'm skiing, very high, in very precarious places, much, much too fast. Rafting Skull Rapids in July? Hellzyeah.
Flying to London a week after 9/11 because tickets were so cheap? Totally.
I eat beef and pork practically raw and have never shied away from diving deep into the fjords of Iceland with my young daughter in tow.
When Aurora finally considered easing restrictions on fireworks a few years ago, I was leading the parade.
But I have seen with my own eyes, as a journalist, what happens when cars and people, especially small ones, collide. The car always wins. Still.
And being a dad who had no qualms about packing my house with my own child's pals, I also saw firsthand why parental supervision is not just suggested, but required with kids like the one I am. was.
I've learned that it's silly to expect kids to behave like adults, and ice cream trucks don't roll down the street to lure adults out of their summer slump.
Whether Aurora should take a hard look at places like Connecticut, which last year passed Tristan's Law, providing a long list of safety requirements before telling parents, "good luck with that," I don't know. .
But I know it's no great mystery or shock that places like Colorado have at some point seen that the danger created for children by traveling ice cream trucks outweighs the ineffable economics of gigs provided by the industry.
And while I still regularly rule out the risks created by very long ladders, very steep toboggan stairs, and very explosive fireworks, I've learned that just because you can do something doesn't mean you have to.
Follow @EditorDavePerry on Twitter and Facebook or contact him at 303-750-7555 or [email protected]