MDX Vs RDX: Acura's 2 Best SUVs Compared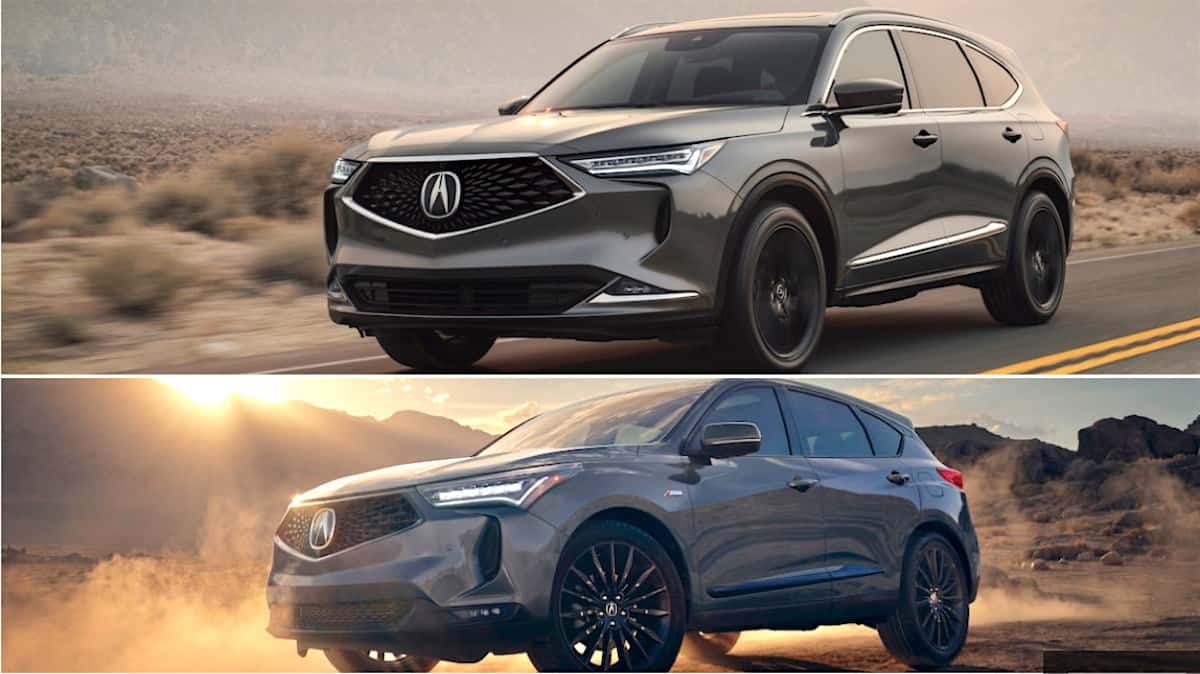 Acura SUVs have been consistently popular and praised since their launch in the early to mid-2000s. For 2022, the MDX midsize SUV enters its 4th generation with a substantial redesign inside and out, compared to the Acura RDX compact crossover that gains a few updates, including refined styling in line with its larger MDX sibling, a much quieter cabin, more standard technology and retuned suspension.
Besides size and being in the market for a while (MDX since 2001 and RDX since 2007), what are the other key differences between MDX and RDX? Here's a closer look.
Size and style differences between MDX and RDX
Of course, the first thing one would notice is the size difference. These are both classified as crossover SUVs, but the Acura RDX is more compact than the Acura MDX. In fact, the RDX's exterior is about 10 inches (254 mm) shorter and 4 inches (102 mm) narrower than the MDX.
Here's a look at the exterior dimensions of the MDX vs RDX for 2022:
2022 Acura MDX Dimensions
| | |
| --- | --- |
| Wheelbase (in) | 111.0 |
| Length (in) | 196.2 |
| Width (in) | 77.7 |
| Height (in) | 67.4 |
| Track (inside, forward/backward) | 66.3 / 66.3 |
| Ground clearance (inside, empty) | 7.3 |
| Angle (Approach/ Departure/ Breakover) | 14.9°/ 17.4°/ 15.2° |
2022 Acura RDX Dimensions
| | |
| --- | --- |
| Length (in) | 186.8 |
| Width (in) | 74.8 |
| Height (in) | 65.7 |
| Wheelbase (in) | 108.3 |
| Track (inside, forward/backward) | 64.2 / 64.7 |
| Ground clearance (inside, empty) | 8.2 |
The exterior changes of the new MDX 2022 are significant
The difference is more pronounced when we get inside the 2022 MDX, but more on that below. In terms of visuals, the 2022 Acura RDX is a bit more angular, sporty and dynamic in design and tends to turn more heads. The lines are sharper and more contemporary.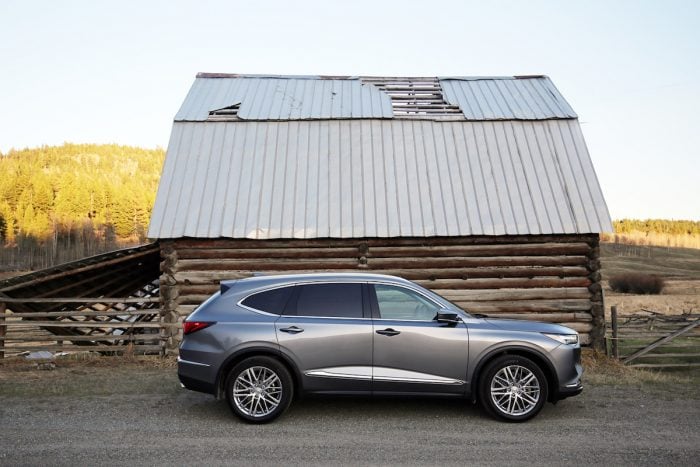 The exterior of the outgoing MDX was a bit more disappointing, but received a major redesign for the 2022 model year in which it "undergoes its most drastic design transformation yet," according to Acura. . Before the 2022 MDX arrived, however, the 2021 model was still based on a facelifted design from 2019.
Overall, the 2022 MDX's design updates include a stronger, straighter front end appearance, a more sculpted grille and hood, and overall a wider stance that better suits this midsize hauler than the previous generation. For a better idea of ​​the style and performance, here's our review of the 2022 MDX Platinum Elite.
2022 RDX design changes are subtle but much needed
2019 brought us a whole new generation of sporty RDX compact SUV design (here's our 2019 RDX review), but even a few years later the design might seem date, if you want to call it that. Thankfully, the refreshed 2022 RDX gets a few more sporty and dynamic styling updates inspired by the new next-generation MDX, which is also now Acura's flagship SUV.
If we were to buy the old RDX, it would be the 2021 Acura RDX PMC Edition limited to 360 units with its blacked-out accents and NSX orange look.
Engine, transmission and performance
MDX power and performance
MDX 2022
New model gains advanced direct-injected 3.5L I-VTEC V6 engine developing 290 peak horsepower and 267 lb-ft. maximum torque. For the first time, the new 3.5L V6 is mated to an updated 10-speed automatic transmission with Sequential SportShift and standard paddle shifters. Both FWD and AWD transmissions are offered for 2022 (3.5L V6 + 10AT
Front-wheel Drive and 3.5L V6 + 10AT Super Handling All-Wheel Drive).
MDX 2021
What the MDX might lack in outward appearance, it apparently makes up for in engines and on-road performance. Many have noticed how the more powerful options of the 3.5L gas V6 or 3.0L V6 hybrid help make the MDX a much more fun SUV to drive, even though it's bigger and more family.
Normally it goes the other way. The gas-powered MDX produces up to 290 horsepower, and the powertrain is mated to a 6- or 9-speed automatic transmission. The hybrid only pairs with a 7-speed DCT, but achieves up to 321 combined hp.
RDX power and performance
RDX 2022
The refreshed RDX retains the same engine but improves driving dynamics and handling for 2022. This includes an updated Integrated Dynamics System offering a sportier driving feel between its four drive modes. Coupled with the optional adaptive damping system retuned with more response in Sport mode, a more comfortable ride in Comfort mode, according to Acura. The RDX A-Spec also benefits from a sleeker flat-bottomed sport steering wheel.
RDX 2021
The RDX has a smaller 2.0-liter turbocharged four-cylinder engine, but its power shouldn't be counted on. Even with a much smaller engine, the RDX still puts out up to 272 horsepower, and that 2.0L engine is mated to a 10-speed automatic transmission.
It's snappy, accelerating from 0-62mph in 6.6 seconds, but that deft acceleration and quickness become less enjoyable when you reach highway speeds. It takes 5.2 seconds to go from 80 to 112 km/h.
The MDX goes from 0 to 100 km/h in just 6.3 seconds, and its power and agility remain much more constant on the highways.
Performance differences between MDX and RDX:
| | | |
| --- | --- | --- |
| | 2022 Acura MDX | 2022 Acura RDX |
| Engine | 3.5L V6 (updated) | 2.0L Turbo |
| Power | 290 hp @ 6200 | 272 hp @ 6500 |
| Torque (lb-ft @ rpm) | 267 @ 4700 | 280 @ 1600-4500 |
| valve train | 24-valve, SOHC i-VTEC | 16 valves, DOHC VTEC |
| Transmission | 10-speed automatic transmission (new) | 10-speed automatic transmission |
| | | |
If towing capacity is an important performance factor for potential buyers, they should know that the RDX can handle approximately 1,500 lbs (680 kg) and the gasoline-powered 3.5L V6 MDX model can handle significantly more, up to 5,000 lbs (2,268 kg). One thing to watch out for, though, is that Acura doesn't recommend any towing on the MDX hybrid model.
Acura MDX vs. RDX Interiors
First, here are some side-by-side interior comparisons for the 2022 and 2021 MDX and RDX SUVs:
Interiors of the 2022 MDX compared to the 2022 RDX:
Interiors of the 2021 MDX compared to the 2022 RDX:
The first big difference between the two is that the interior of the 2022 RDX has two rows of seats, which can accommodate up to 5 passengers, while the MDX adds a third row, which can accommodate up to 7 passengers.
The cargo volume depends on how you use the seats. The RDX has better natural cargo space of 29.5 cubic feet (835 liters) with the second row up and 58.9 cubic feet (1668 liters) with the second row seats down. The MDX only gets 15.8 cubic feet (447 liters) initially, but when you open the rear cabin you get a whopping 90.9 cubic feet (2574 liters).
Here's our full interior review of the 2022 Acura RDX.
Interior updates for the 2022 MDX include additional cabin space for people and gear, more passenger space in all three rows, adding a new multi-function second row with removable center seat.
The RDX and MDX are similar in that they offer some nice features, including impressive lists of standard safety features and driver assistance systems. Both the MDX and RDX get forward collision warning, automated emergency braking, lane departure warning, lane keep assist and adaptive cruise control .
Interior dimensions RDX vs. MDX:
| | | |
| --- | --- | --- |
| | Acura MDX | Acura RDX |
| Head room (in, first row/second row/third row) | 38.1 / 38.2 / 35.6 | 40 / 38 |
| Leg room (in, first row/second row/third row) | 41.4 / 38.4 / 26.6 | 42 / 38 |
| Shoulder room (in, first row/second row/third row) | 61.1 / 59.1 / 54.7 | 60 / 57 |
| Hip room (in, first row/second row/third row) | 57.5 / 57.8 / 40.6 | 55 / 50 |
| EPA passenger volume (cu. ft.) | 133.4 | 104 |
Takeaway: Which Acura SUV is the best choice?
So which is the best choice? Well, the obvious conclusion is the size difference and what each provides. The compact RDX is small, sleek and boasts a punchy turbo engine. But it's compact, so if cargo space is important, the RDX probably won't shrink it by the size of your family.
The MDX has been on the market for two decades now and offers that third row coupled with all the extra cargo space and a larger cabin environment. And if towing duties are heavy, the 2022 MDX will tow up to 5,000 lbs., which is in line with competitors. The RDX isn't much of a weekend toy hauler. Importantly, the 2022 MDX is completely new inside and out, while the RDX has received a styling update to look more like its big brother.
Finally, and as you'd expect, the 2022 RDX currently starts at $39,300 ($38,400 in 2021), while the 2022 MDX starts at $46,900 more expensive (compared to $44,500 in 2021) . The price of the MDX gets sky high when you factor in the top trims and optional extras.
Shopping for a new SUV? Here are some 2023 SUV models worth waiting for.