Here's What the Best '80s Chevy Trucks Are Worth Today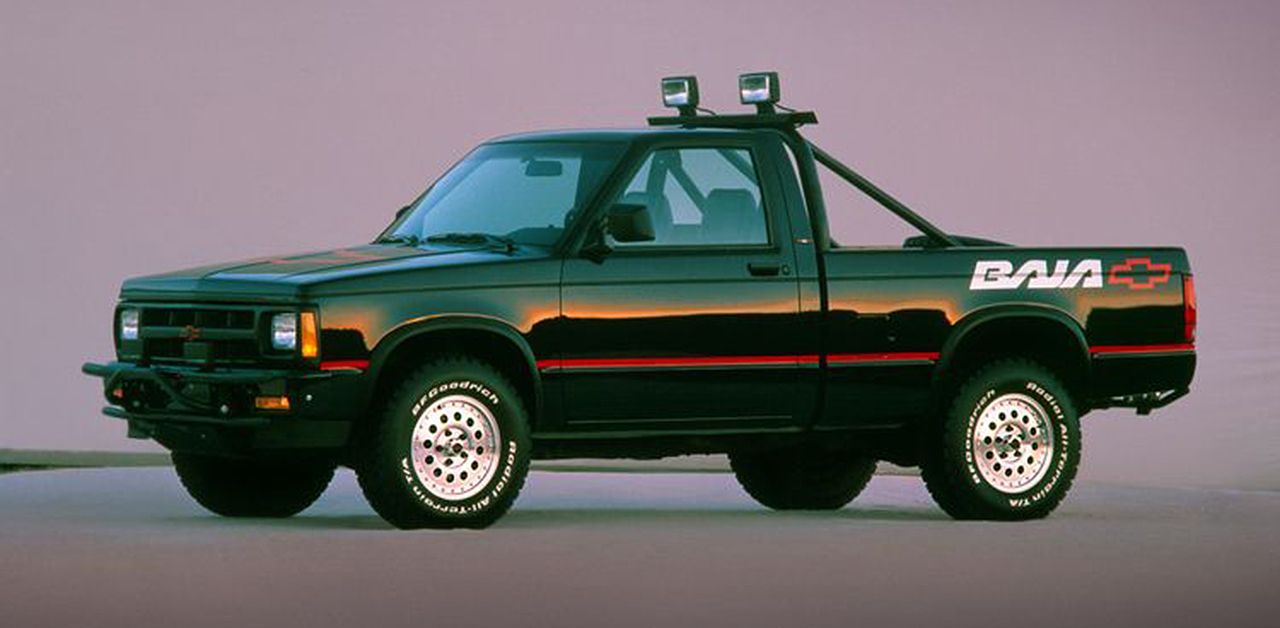 Pickup trucks have always occupied a fair share of the American automotive industry, attracting most buyers due to their unrivaled practicality and off-road capabilities. They have been in production since the end of the First World War, and Chevy has always been one of the heavyweights in the segment, releasing historical models that have not failed to mark the evolution of trucks.
One great thing about trucks is the fact that the practicality they offer is pretty much timeless, given that the massive bed that gives them such utility never loses its functionality, even thirty or forty years after the production. That means used trucks are always a great option to consider, no matter how old they are, and going for older models almost always means you can save some extra money on the purchase.
That being said, let's take a look at what the best 80s Chevy trucks are worth today.
1989 Chevrolet S-10 Baja
Introduced towards the end of the decade in 1989, the Chevy S-10 Baja offered several upgrades over the standard S-10, including many design cues and upgraded mechanical parts that improved performance. The four-wheel-drive two-door truck was a big hit when it was released, and even today it still holds a respectable reputation as one of Chevy's best pickups to date.
As with most used vehicles, the price is highly dependent on the current condition and mileage of each unit; With that in mind, S-10 Bajas in good condition with high mileages can cost around $4,000, while others with lower mileages can cost up to $8,000. To sum things up in simpler terms, the average S-10 Baja costs between $5,000 and $6,000, which is definitely a price to consider.
RELATED: 20 Chevy Cars From The '90s That Made Absolutely No Sense
1981 Chevrolet K10 Stepside 4×4
It is a rare case. In the early 1980s, Chevrolet was producing about 700,000 trucks a year, and only a very small percentage of that huge number were owned by Stepside units. Additionally, even fewer Stepsides were also equipped with 4×4 capabilities. All of this means that finding a decent example of a K-10 4×4 Stepside today might not be as easy as you might think.
Most well-maintained units are sold at auction and sale prices tend to hover between $10,000 and $15,000. The K10 Stepside is notable not only for its capabilities as a pick-up, but also because it features an exterior design that still looks great even to this day, with signature rear fender flares that set it apart. really.
1988 Chevrolet C/K1500
The C/K1500 was launched as one of the most complete trucks to date, with new features such as independent front suspension or allowing you to switch the vehicle's four-wheel-drive system at any time. Even to this day, if it's in good condition, it still offers most of what you need in a truck, but keep in mind that the C/K1500 cabin can only accommodate two people, like the other models on this list.
The prices are quite wide; you can find heavily used 88 C/Ks for as low as $3,700, or well-preserved units for over $20,000. There are also examples with less than 1,000 miles that are practically new, costing twice the price at nearly $38,000. Keep in mind that the C/K1500 went new for $13,000 back then.
There are clearly plenty of options in terms of price and mileage, so it ultimately comes down to how much you're willing to spend. Chevy certainly released a lot of awesome trucks in the '80s and hasn't really stopped since.
These cheap fast cars from Europe are worth a closer look
We have selected excellent examples that are available on the market today.
Read more
About the Author