Heavy trucks are the new luxury sedans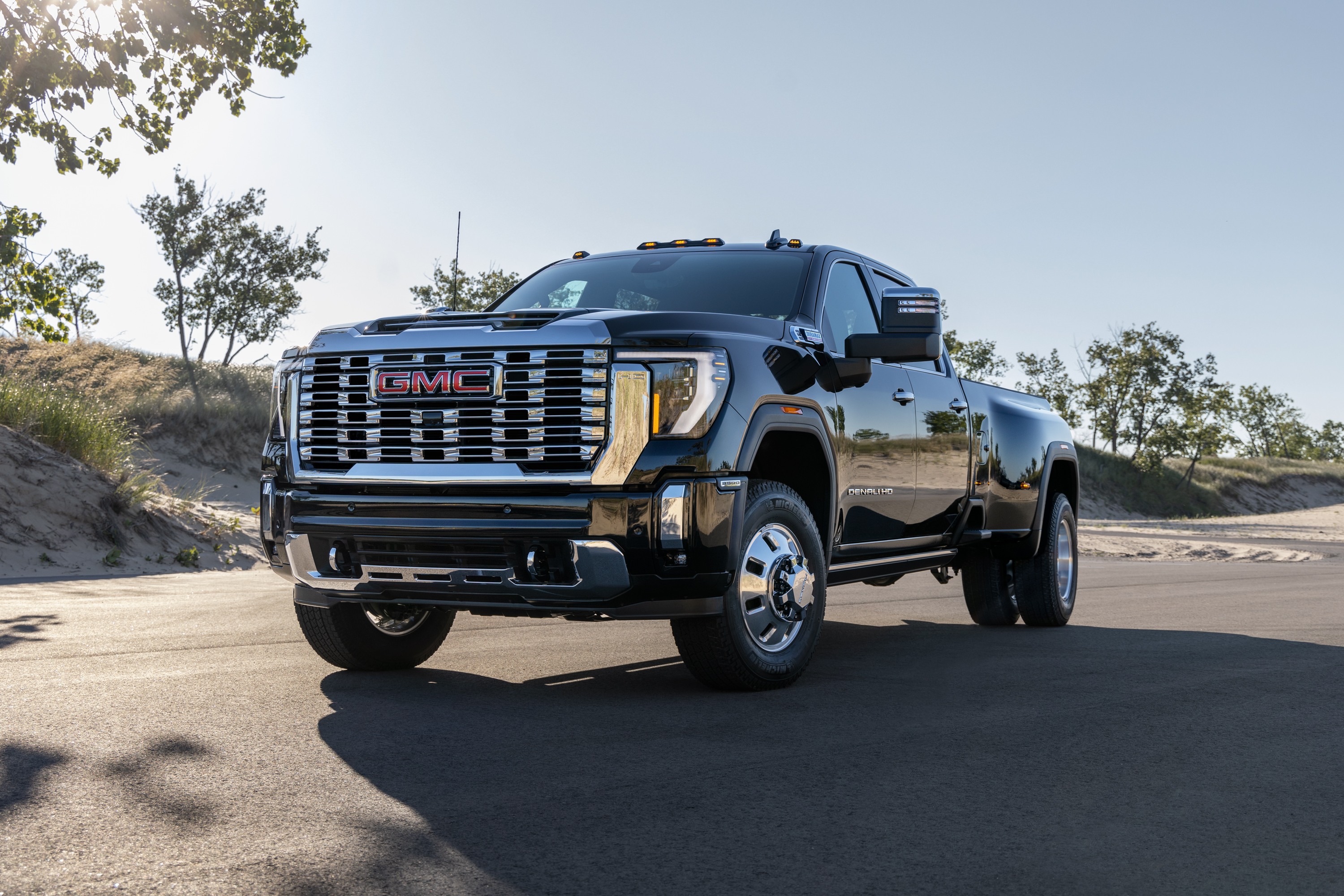 It used to be that the heavy duty truck was a crude, diesel-guzzling mud tire offering for contractors, forestry workers, and landscape architects, created just to do heavy hauling and towing. But as generations have passed for the GMC Sierra HD, Chevrolet Silverado HD, and Ram HD, these trucks have become more comfortable, quieter, more efficient, and more practical for long hauls.
They now include heated, cooled and massaging seats, touchscreen infotainment systems, soft leather appointments, the latest safety technologies and Wi-Fi connectivity with high five-figure prices – features and cost usually reserved for luxury sedans.
Ford unveiled its latest heavy-duty pickup earlier this year; Chevrolet and GMC recently followed suit, and Ram updated its truck for 2023, which received a major overhaul in 2019. The latest batch is a bumper crop of hard-working yet luxurious trucks.
Ford is aiming for a business-class experience with its new Super Duty. "When you look at those customers who buy the Limiteds and King Ranch and Platinums, they have very high expectations for a luxury vehicle…and they're not willing to compromise when they get into their truck that they will use to tow their RV or their horses or their boat," said Brian Rathsburg, Ford Super Duty marketing manager, Newsweek.
Heavy-duty trucks typically have more horsepower and torque, in larger sizes, with more ground clearance, and with more payload and towing capacity than a standard Ram 1500, Ford F-150, or Chevy Silverado 1500 . They get bigger names like F-250 and F-350 for Ford, or 2500 and 3500 on the Chevrolet and Ram side. They're also more expensive, though GMC sees that as a challenge.
"Today, we are number one among all brands in the heavy-duty truck segment in the upper price bracket, well ahead of our competitors in terms of market share for heavy-duty pickups priced at $75,000. or more," Jaclyn McQuaid, executive chief engineer at full-size trucks said during a virtual press event. "And again, that's a big part of the segment. When customers want a premium pickup that's as premium as it is capable."
2024 GMC Sierra HD
The 2024 Sierra HD is GMC's version of the Chevrolet Silverado HD. It comes with a slightly higher price tag and with slightly better interior amenities. For the new generation, GMC will offer the first Denali Ultimate trim for the truck, as well as a new AT4X off-road trim later in the model year, following a similar decision for its line of regular-duty trucks. .
The current Sierra HD Denali starts at $84,000; the Denali Ultimate version will cost even more.
The GMC Sierra HD is equipped with a 6.6-liter diesel engine developing 470 horsepower (hp) and 975 pound-feet (lb-ft) of torque. That's good for 21,900 pounds of tow on the 2500HD and up to 36,000 pounds on the 3500HD. It also offers 14 camera views to keep drivers safe while towing and hauling, including the new "Transparent Trailer View" which uses a camera on the back of the truck and an accessory camera on the back of the truck. trailer.
But the real luxury is inside where buyers can use a 13.4-inch touchscreen, rest their arms on top-grain leather door panels and sink into leather-wrapped power-adjustable seats. 16 directions with heating and massage functions. Audiophiles will likely opt for the 12-speaker Bose audio system with Center Point surround technology.
This digital display is no afterthought, with new user preference options for customization with a split screen. It comes with Google built-in on all but Pro trims and with wireless Apple CarPlay and Android Auto. A 15-inch head-up display and 12-inch digital instrument cluster are both offered, allowing drivers to see the most relevant information without taking their eyes too far off the road.
2024 Chevrolet Silverado HD
The 2024 Chevrolet Silverado HD is also available with the same 6.6-liter Duramax diesel engine developing the same 470 hp and 975 lb-ft of torque as the Sierra. A 6.6-liter gasoline V8 is also offered, developing 401 horsepower and 464 lb-ft of torque. The gasoline engine can tow a maximum weight of 21,600 pounds. A 10-speed transmission is standard across the range.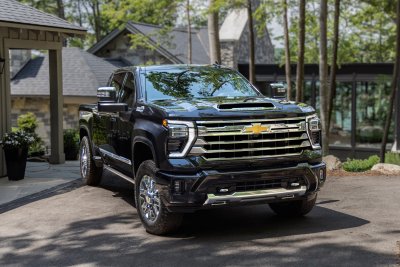 In the cabin, the Silverado HD offers a 12.3-inch Digital Driver Information Package in addition to the 13.4-inch infotainment screen. This screen and other controls face the driver, which Chevy says is reminiscent of the control position of C/K-series truck interior shapes in the 1970s and 1980s. is located under the touch screen.
"It's a more open and contemporary interior that passengers will find inviting," said Phil Zak, executive director of Global Chevrolet Design in a press release. "It's an environment that intentionally puts more at the driver's fingertips, for a greater sense of confidence and connection with the vehicle."
As with the Sierra, the Silverado is upholstered in leather and open-pore wood. It now has 10 cup holders depending on the model and new physical buttons for easy volume and climate control.
These HD trucks come with many safety technology options that luxury buyers use in their personal models, including front pedestrian braking, lane departure warning and forward collision warning, as well as indicators blind spot and adaptive cruise control. GM's Chevrolet brand also offers a Surround View Monitor and Bed View Camera for easy payload checking and parking.
Ram HD 2023
The Ram 3500 HD has been heavily updated for 2023, although it has kept its six-cylinder diesel under the hood. The most powerful Rams can tow up to 37,090 pounds with 1,075 lb-ft of torque. It also has a payload of 7,680 pounds.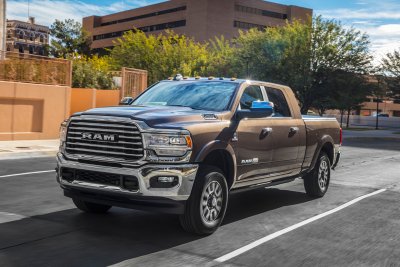 Like GMC with its off-road-focused AT4X version, Ram showed off its Rebel version at the State Fair of Texas in September. The Rebel adds a unique exterior design, all-terrain tires, electronic rear locker and limited-slip rear differential, skid plates and an optional 12,000-pound WARN winch.
Buyers are offered the option of a 12-inch infotainment touchscreen, a 17-speaker Harmon Kardon stereo system and a surround-view camera. The Ram HD offers leather and wood like the other trucks, but also steel accents inside. Contrast piping adds character to the seats. A new 12-inch frameless digital gauge cluster with nearly two dozen different menus that can be saved to a profile.
The Ram HD is also quieter than its predecessor with an active noise cancellation system and acoustic glass that reduce ambient cabin sounds by nearly 10 decibels. The new air conditioning system delivers more airflow at lower noise levels while new heating elements help accelerate cabin warm-up in cold weather in diesel models.
The heavy trucks of tomorrow
Today's new models feature luxury appointments, especially at the higher trim levels. Tomorrow's heavy trucks will be more connected than ever, using 5G technology to integrate their working lives into more specialized fleet management, optimizing productivity, increasing uptime and allowing companies to see the pain points that are unnecessarily costing them time. and money. As the saying goes, "time is a luxury".
Ford is already ahead of the competition with its Ford Pro connected vehicle ecosystem, a product already available to customers regardless of the make and model of their vehicle fleet.