Canipe Takes Southeast Super Trucks Victory at Kingsport Speedway | Sports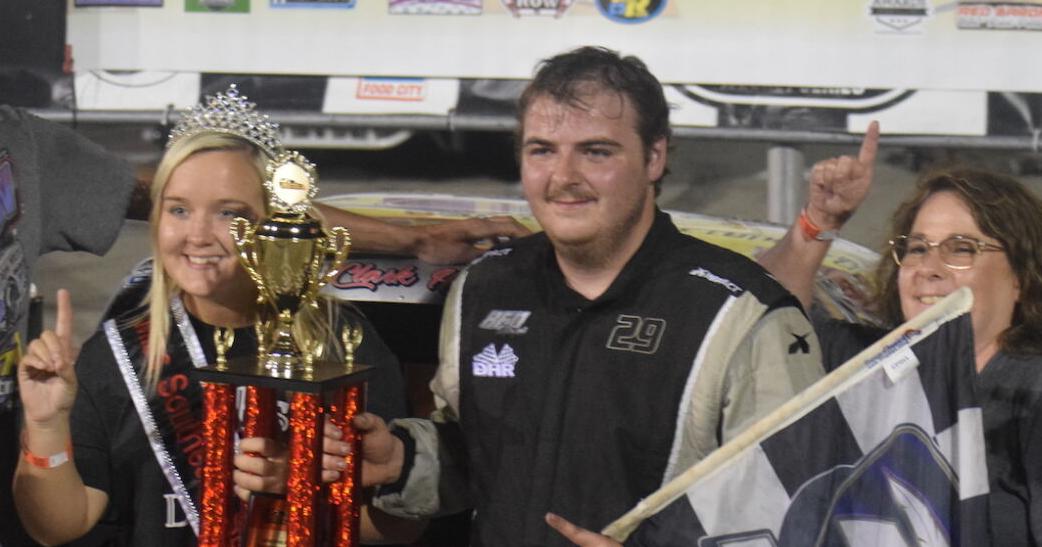 KINGSPORT – DJ Canipe "tipped the switch" in his favor on Saturday night at Kingsport Speedway.
Having trouble with his own truck, he asked to switch vehicles with his good friend Clark Houston before the Super Trucks of the Southeast 50 lap feature. Since Canipe is in the running for series points, Houston agreed and let Canipe drive his #6 Chevrolet.
Canipe qualified third, behind Tanner Carter in number 00and Houstonin his machine n°29. However, it didn't take long for Canipe to take the lead. Once there, caniped he stayed ahead to beat second Jamie Barbery by 1.436 seconds.
"My truck was running fine (for) 5-7 laps, but the farther we drove the worse it got," said Canipe, a Fallston, North Carolina driver and former Legends Car Champion. "For the second round (practice), Clark and I traded because he's not running for points. I struggled a bit and then I got it.
"I could go anywhere I wanted in that truck. Everything DHR has is fast. The driver just has to show up and do his job.
Barbery, a former Kingsport winner from Travelers Rest, South Carolina, was solid in his No. 21 Ford. Tim Lollis was third, followed by Kaleb Bradley and Joshua Horniman.
Houston finished three laps off the pace but felt it was able to find some of the issues plaguing Canipe's truck.
LATE MODEL LIMITED
Lance Gatlin, the defending champion at Lonesome Pine Raceway, earned his first Kingsport win in a flag-to-flag win for Southeast Limited Late Models.
Bryce Applegate in the red No. 45 closed in on Gatlin's white and yellow No. 52 Chevrolet near the end of the 50-lap race. Gatlin got through the traffic better and won by half a second.
"He was staying there with me," Gatlin said. "Towards the end, I thought the traffic was going to be an obstacle. It ended up helping me. »
The Morristown driver spoke about his special victory in front of his family and friends.
"It's a huge win for me because it's the closest active track to my house," Gatlin said. "My family and friends usually can't make the trip to Lonesome Pine or wherever else we race, so that's huge.
"I haven't been a huge fan of this race track, but I've always said if I won one here I'd be a much bigger fan. Tonight proves it.
Applegate, a former Legends car star, finished second. South Carolina racer TJ Lollis finished third, followed by John Gallman and Joey Braun. Heath Silver, son of former NASCAR Busch Series driver Ronnie Silver, finished sixth.
Chase Pollard, the grandson of former NASCAR Cup Series driver Harry Gant, finished ninth.
OTHER RACES
Danny Toney in a #51 Ford Fairlane held off a loaded Jerry Bryant in a #23 Chevrolet Chevelle to win the first of two Carolina Vintage Series features. Raymond Sams was third in a Ford Mustang and Johnson City driver Danny Casteel was fourth in his modified No. 41.
"Not too bad. They wanted me to start at the back and I was good with that," Casteel said. "We ran this car at Motor Mile two weeks ago and finished seventh. Coming here and having another good run on this track, I'm happy.
Casteel was running second in the second feature when he was spun by Toney early in the race. Toney continued to win after his stint and then held off Duffie Sams' red No. 44. Casteel recovered to take third place, his best result at Kingsport.
Cameron Bolin, a former Late Model champion at Greenville-Pickens Speedway in South Carolina, led from start to finish to win a 20-lap race for the Legends cars. Austin Thompson was second and Brody Gunter was third.
Hunter Jordan made a last-lap pass from Hunter Morgan to win the opening 20-lap race of the night for the Bandolero cars.